The Savannah College of Art and Design collaborated with Trane to assist in the research and development of concepts for an on-brand experience telling the story of Trane Technologies, both commercial and residential. The area will be a focal entry point for purposes of brand loyalty and investor relations.
My Roles:
 
 -Illustration Manager/Art Director for 2D Graphics 
               
 -Process Book Desig

ner
, Story Artist, Concept Artist
Our SCADpro team was hand-picked for our resilience, creativity, and diverse sets of skills. Due to the unforeseen circumstances surrounding COVID-19, our team worked remotely online for Spring 2020, often from opposite sides of the globe. In spite of these unprecedented challenges, we worked tirelessly to research, write, design, illustrate, 3D render, and present this interdisciplinary collaboration
. 
Description written by Chase Hoerrner / Meredith Waugh
Our team was asked to design an immersive storytelling experience for Trane Technologies' office in Davidson, North Carolina. The experience is curated for investors, customers and potential employees and it must reflect the qualities that are most important to the company:
Sustainability. Wellness. Reliability.
Each of Trane Technologies' three brands – Trane Residential, Trane Commercial, and Thermo King – strive to exem

plify these ideals.
Description written by Chase Hoerrner / Meredith Waugh.
Lobby rendering by TX Zheng. Lobby design by TX Zheng, Sameeksha Bhatia, and Lorie Wheeler.
We created the character, Irma Stat, to narrate and guide the viewer through our immersive experience. 
Original illustration by Lindsey Ellis, finalized/detailed by Katie Hearns.
Animatic by Kira Prince. Storyboards illustrated by Katie Hearns. Script written by Kira Prince, Michael K. Lim, Lorie Wheeler, Sameeksha Bhatia, Chase Hoerrner, Meredith Waugh, Lindsey Ellis, Kristen Tholen, and Averie Storck.
One of our main deliverables for this collaboration was an in-depth book on our complete process. Myself and several other creatives worked together to create a themed "mission briefing" that explained every part of our journey towards an immersive, storytelling experience.
Process book by Halle Garrett, Lindsey Ellis, Katie Hearns, Zyria Stevenson, Meredith Waugh, and Chase Hoerrner.
'MEET THE TEAM' ILLUSTRATION
To highlight the remote aspect of our team, we illustrated over a quirky Zoom screenshot.
Ideation by Lindsey Ellis and Katie Hearns. Illustrated by Katie Hearns. 
At the beginning of our ideation process, we came up with several ideas to pitch to the client, including illustrations, animations, scripts, and floor plans.
​​​​​​​
Ideation/sketches drawn by Katie Hearns. Colored by Halle Garrett, Kristen Tholen, and Sameeksha Bhatia, and Katie Hearns. All finalized and detailed by Katie Hearns.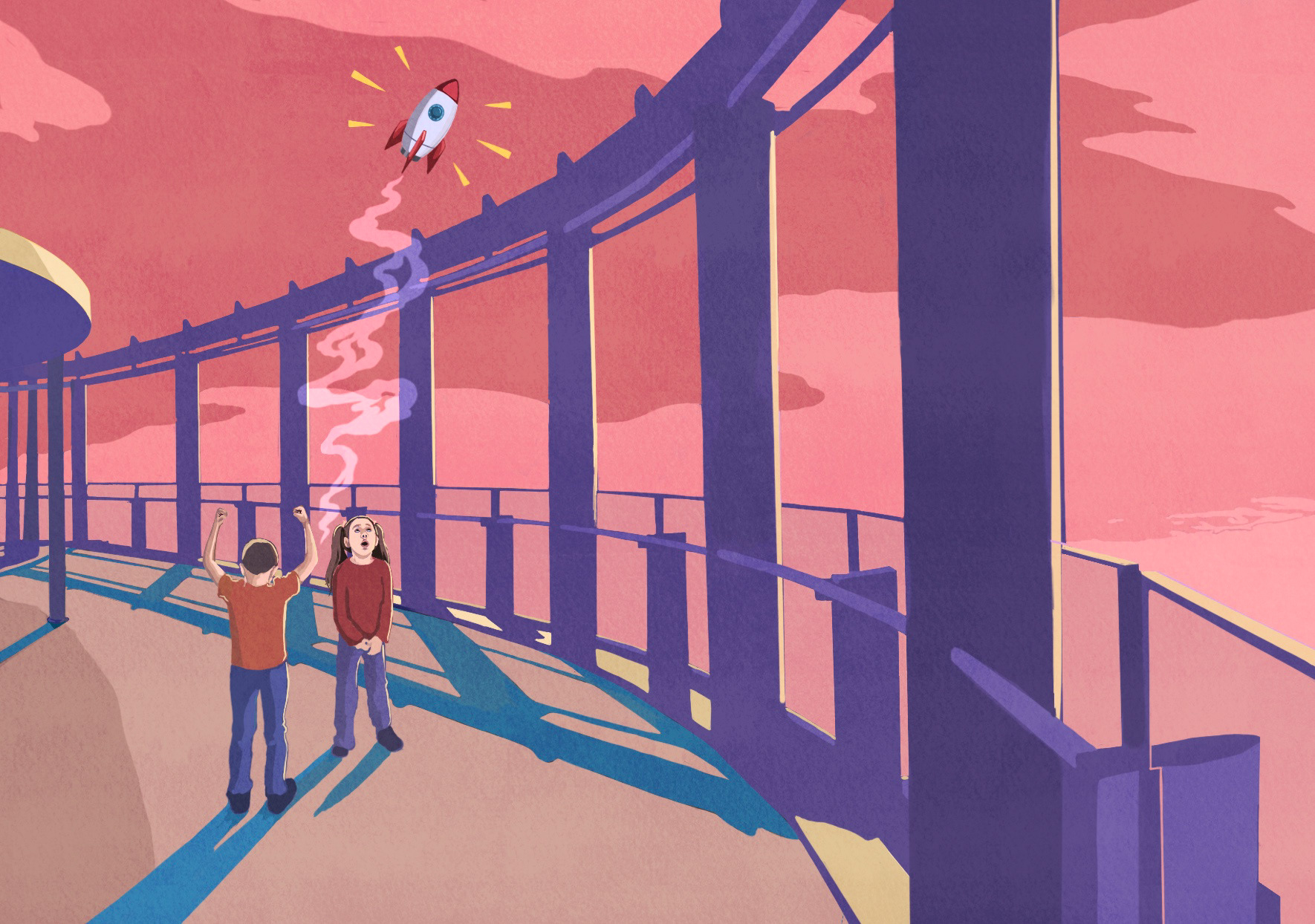 (Left) Sketch by Zyria Stevenson and colored/finalized by Katie Hearns. (Right) Illustrated by Katie Hearns..